During its lifetime, the tree absorbs way more CO₂ than it produces during the planting, growing, harvesting and crushing of the pods for our renewable green fuel. That is why we fell for the Pongamia tree.
---
Corekees signed an offtake-agreement for the total harvest from the trees. This way, we can guarantee that all pods will be sold for a fixed price.
The trees reach maturity when they are 7 years old. From that moment on, the tree produces a stable amount of pods each year.
The gross return is 256% after 20 years. The average expected profit per tree is €2.19 per year.
Benefits of the Pongamia tree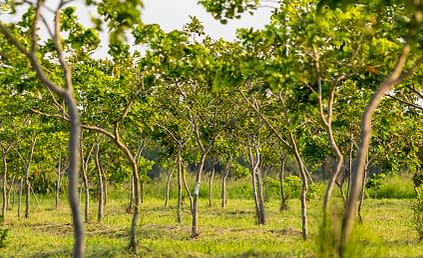 Bare terrains are restored into natural reserves for cattle, our Pongamia tree and native vegetation.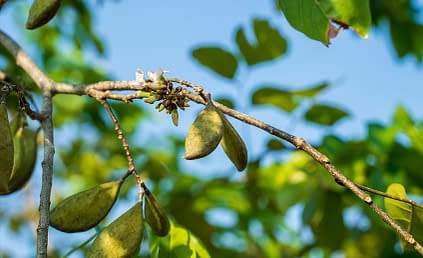 Our tree is known for its ability to filter large amounts of CO₂ from the air. Each tree compensates about 44 kilograms of CO₂ each year.
The natural oil crushed from the Pongamia pods are uses worldwide in the production of biodiesel or 'HVO'.
The protein feed from the leftovers of the crushing are suitable for both animal (cattle) as human consumption. Each tree produces over 15 kg protein a year.
Local farmers put to work
The Pongamia tree has more benefits than only the natural restoration. Mature trees offer protection to the cattle that walk among the trees. This way, local farmers can let their cattle graze on our fields. The maintenance of the trees and cattle create new jobs for the locals.